English Literary Club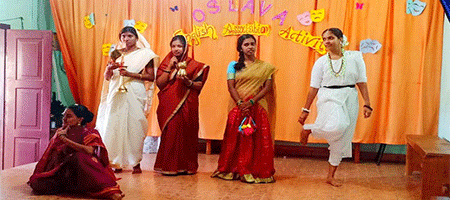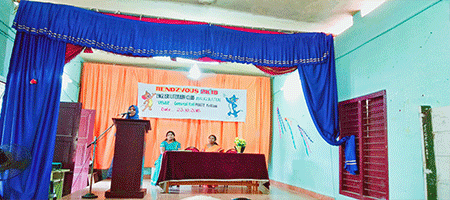 Objective
To journey into the realm of literary art that shape the inner self, nurture the creative thirst and to provide opportunity to practice English in a relaxed and informal environment.
To integrate student talents, needs and interests with the English teaching process an English Club has been formed under the title OSLAVA (a Czech Republican word meaning celebration) and for the smooth functioning of the club we have selected a president and secretary. The club used to practice interesting programmes like literary Debates, Discussion sessions, Skit, Tableau, Dance, Recitations etc. The club providing chances to practice Visual and Performing Arts through Stage the Painting session. Trainees find it pleasure in doing dramatization, Skit, Mime etc. So that they could interact well with their friends and can improve their personal skills. Club promotes activity is which help to improve the skill of communication and a taste for literature.
Objective
The role of Hindi club is to motivate the interested students to learn the language through conducting various activities on writing, reading and speaking. The aim behind the club is to add more confidence in the minds of the students. The club used to conduct various activities like paper presentation, debate, elocution, exhibition, performing arts etc.
To acquire the ability of the student in learning the language and to make them confident in getting jobs for them where ever they are employed by exhibiting their acquired knowledge and experience. Through continuous monitoring and motivation ensuring the students to learn the language Hindi and implement the same in their path to success.
Objective
The club used to celebrate national science day every year in collaboration with Kerala State Science, Technology and Environment. Interesting and informative seminars were presented "(communicating science for all, "global warming and climate change"). The club members are interested in charity work by extending a helping hand to the needy people. A visit to (Anandhatheeram (a poor home). The club organized food fest as a part of capacity building programme.
PHYSICAL SCIENCE CLUB ACTIVITY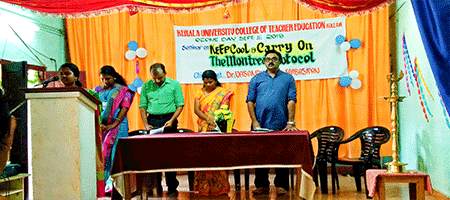 Objective
A club is an association of two or more people by a common interest or goal. The main objective of a science club is to develop student's interest in learning science. By participating in the activities conducted by science club, a student inculcates scientific attitudes and gets trained in scientific method. Science club also helps the students to be in touch with the recent advances in sciences.
The physical science club is named 'SPECTRA'. For the systematic functioning of our club a president and a secretary has been selected. The club used to celebrate ozone day every year. The main purpose of such a programme is to drag the attention of students and teachers towards the depletion of ozone layer. Various programmes like debates, skit, quiz competition, discussion etc. are also conducted by the club based on contemporary issues as well as development in science.
MATHEMATICS CLUB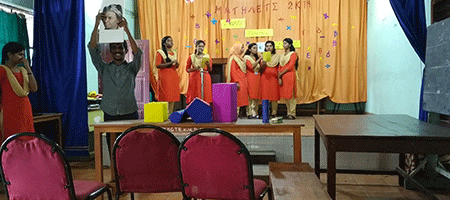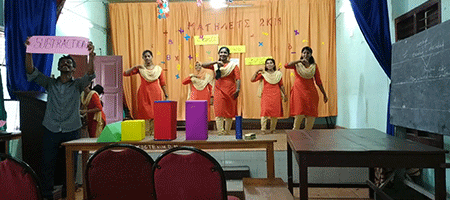 Objective
Mathematics club is student's organization that involves all students whose interest is mathematics. Its objective is to bring together people with a love for mathematics, encourage student's collaboration provide exposure to further education and career opportunities. To achieve these objectives a mathematics club has been formed and for the smooth functioning of the club a President and Secretary have been selected. The club used to conduct programs like exhibition which high lights the contributions of eminent mathematicians and teaches easy tricks to do mathematical calculations. The club practiced the concept 'creativity' by performing dances related to mathematical concept, songs related to geometrical figures. Members are interested in organizing competitions to develop interest towards the subject.
GRIEVANCE REDRESSAL CELL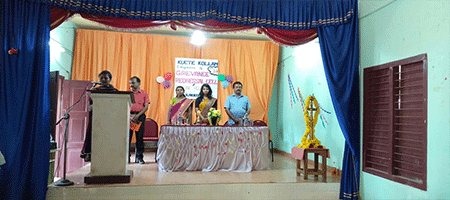 Objective
GRC was formally inaugurated by Ilakkiya I.A.S Asst. Collector Kollam. C.S.Jyothis, Assist. Prof. of Physical Science appointed as in charge of the cell. Students can address their problems through e-Mail or over phone or suggestion box. Which is kept in College Campus. Requests and complaints received through this means are considered with utmost care and solutions and actions were provided on time.
Objective
A Sport Club is a group of students organized and established to promote and develop the interests and skills of members in sport--related activities. The Sport Club Program is student initiated, and emphasis is placed on student leadership development, and competiveness. Physical education department organizes and controls activities connected with discipline along with complementary activities- exhibition, nutrition workshops, coaching sessions and yoga classes. The club tries to keep the students healthy by promoting aerobics, walking, running, cricket, tennis etc. The National Sports Day is celebrated on the birthday of Dyan chandh, Hockey Magician. As a part of the national sports day a speech competition on the topic" Importance of physical education has been conducted. As a part of the clean Kollam programme 2019 the students had actively participated in threw campaign under the guidance of physical education faculty. It is quite easy to improve the list of Sport Club's activities with the guarantee to never lose the quality of the service offered.
ARTS CLUB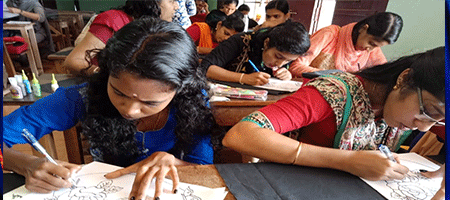 Objective
The main vision of the arts club is to provide a heaven for those pupils who had professional or amateur relationship with the arts, literature and sciences. The various programs organized by our college under the club are: "swaralaya"-the arts fest, conducted literary and nonliterary competitions. Our students participated in inter-collegiate competition-RANGOLSAV 2019 and won first prize in fusion dance and A grade in thiruvathira and folk song. To enhance the creative and aesthetic values of our students, provided them with various classes for glass painting, drawing and other SUPW activities. In association with the arts club a "theatre workshop" was conducted to make our teacher trainees- a best stage performer.
CAPACITY BUILDING ACTIVITY CONDUCTED BY HEALTH CLUB -FOOD FEST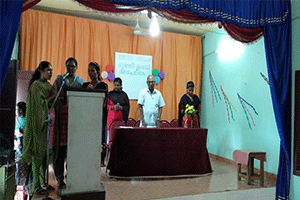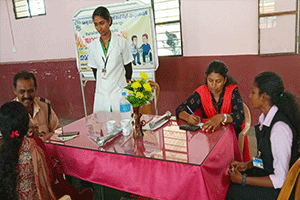 Objective
As a part of our capacity building activity, KUCTE of Thevally conducted a grand food fest in collaboration with the Gandhi Jayanthi programs. Food fest was one of the main attractions of the event as it encompassed the participation of both the students and teachers. The non-teaching staff were also seen on the forefront. Students from different departments presented different varieties of food; including starters, main course, pickles and salads. The stalls were crowded with buyers and it came out to be a huge success as all the food items got sold out giving huge profit.
The efforts of the students would have been in vain if the teachers were not cooperative and sincere. Their support made this event a grand success. We gratefully remember the co-ordinator of this food fest, Miss. Kochu thresia.P.C for her support and guidance.
In educational institutions, programs like capacity building activities and food fest helps in making the learners more socially active and engage in new social situations. This enables us as an individual to explore our strengths and weaknesses. The collaborative effort and co-operation made this event successful. In a subjective overview, the areas in which outcome is observed are:
• Communicative skill
• Relationship building
• More socializing
• Leadership quality
• Control and co ordination
• Physical and mental presence of mind
• Learn from other's experience

Guidance and placement cell
Objective
1. To provide guidance and assistance for the students to achieve their career goals.
2. To provide awareness on higher studies, self – employment and job opportunities.
This institution offers carrier guidance on all aspects of carrier planning, job searching and post – graduate studies. We are proud of the success of our systematic approach in helping to launch our students on a meaningful carrier path. In our institution, we have a full-time placement officer, Smt. Y.M. Preetha Lali and a team of teachers with student co-ordinators work effectively to help our students to develop their productivity and potentiality, more than 60% of our students are working in esteemed institutions in different locations. A good number of students were successfully passed various competitive examinations and they were appointed in various department in government sector.

Activities of the carrier guidance and placement cell includes:
1. Sustained training to attend competitive examinations (K-Tet, C-Tet, S.E.T. etc.).
2. Training in Basic Communication Skills.
3. Vocational training classes- To adjust with the demands of everyday life.
4. Life-skill classes- To adjust with the demands of everyday life.
5. For a complete living- Our institution providing yoga classes.
6. Campus Recruitment by leading educational institutions.
7. Excel Training etc.

Association Activities

Objective
The College has a vigilant committee against instances of ragging. The Committee takes measures to repeatedly remind students of the consequences of ragging, and ensures that parents and new students are made aware of their rights. Anti -Ragging Committee is constituted in this college to prevent ragging and to take anti-ragging measures as per the guide lines issued by the Supreme Court of India and UGC. The anti ragging cell is handled by the principal and two faculty members.
PUBLICATION OF STUDENT MAGAZINE
Objective
The major aim of publication of magazine is to facilitate students to express their thoughts and ideas freely. Financial support is given by college for publishing student's magazine. Group of faculties will be in charge of Editorial board for assessing the quality of articles and monitoring the publication of college magazine.
Yoga & Health Club